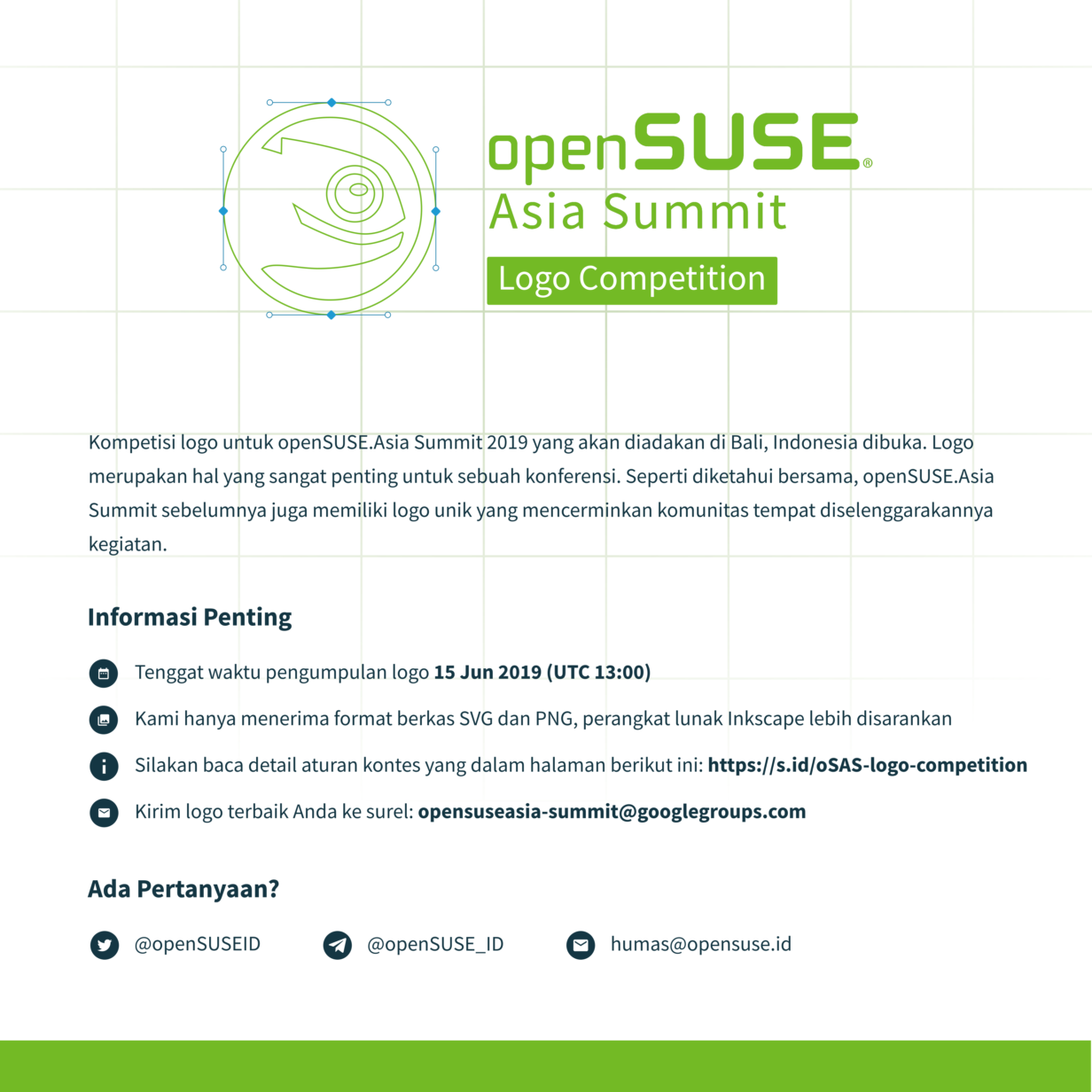 The openSUSE.Asia Summit 2019 Logo Competition has ended on June 15, 2019, and we have 18 submissions. The winner announcement will be published on June 25, 2019, after review and voted by openSUSE.Asia Committee. Here are all the submissions.
Name
Design (right click and open image in new tab for the best view)
Philosophy
Andi Laksana
Anggara Permana Putra
Bayu Aji
– Circle shape means sun which represent sunset, the awaited view in Bali's beaches.
– Silhouette of Bali temple as an iconic building in Bali.
– orange color means happiness, enthusiasm, and creativity.
– Brown color means simplicity, friendliness
– Orange and brown also represent unique colors of most Bali temples.
Budi Setiawan
Logo include the indentity of open suse (logo silhouette and color)
add with roof silhouette of traditional house of bali that will held the meeting (region).
Durim Berisha
I have no philosophy that I would like to translate into my reflections on Asia and Opensuse.
In the background I have a robot lotus flower, a Japanese Gate and a soft hexagon silhouette to symbolize the stability of Opensuse.
The front logo is classically covered with the original Suse head created with Inkscape
Hammouda ELBEZ
The design contains the OpenSUSE Logo on top of the Bali Map and a
representation of a temple which is one of the known things in Bali.
Haruo Yoshino
The design was modeled after the Temple of Punataran Agung from among the many temples in Bali.
As it is said to be a temple in the sky, I would be happy if the logo looks like that.
Hege Dalsgaard 1
Hege Dalsgaard 2
Hermansyah
N/A
Hervy Qurrotul
Ilham Yusuf Fanani
Ka Chung CHAN
-The letter depicted in the shape of a chameleon as well as forming part of the word Bali
climbs on the letter of the word Indonesia. These represents where the summit will be held.
-openSUSE Asia Summit 2019 shown in a cloud points to the summit location, Udayana
University. This signifies there will be talks about information technology such as Cloud.
M AfifFudin
N/A
Muhammad Luthfi As Syafii
Rania Amina
Wisnu Adi Santoso
-The background of chameleon is the Janger fan, as a characteristic of Bali.
-The typeface that we use in the Asia Summit 2019 Bali is Elsie Swash Caps representing a flexible Indonesian culture.
Yuha Bani Mahardhika
On this logo design. I use Bali icons (Pendet and Frangipani Flower).
Because the icon is identical to the island of Bali.
Thank you!